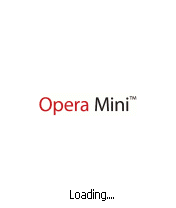 Opera Mini has been launched worldwide earlier on today. I've been using Opera mobile for a while on my Nokia 6600 and it's so much better than the Nokia's built in browser. To test out Opera Mini I went over to mini.opera.com on my phone and downloaded and installed the program. At first glance it's feel very slick and fast. The whole thing works by pulling the data down to you phone via a remote server that preprocesses the data to make the most of the limited bandwidth available.
I found Opera mini to be very responsive and it loaded pages very quickly compared to opera mobile. The pages seemed to scroll quicker and the default setting displays reduced images. There seems to be a modicum of the authors CSS styling applied to the pages whereas the default mode for Opera Mobile strips the CSS and just displays the page using the browsers stylesheet.
A text-size setting allows you to reduce the text size to fit more text on the screen at the expense of a little scrolling speed. A least the text size is a bit bigger than that of the series 60 version of Putty!
All in all I found it to be a good little browser for mobile use but I will probably keep images turned off. There doesn't seem to be any caching settings so I'm not entirely sure if Opera mini stores any of the files locally, I'm guessing that due to the server processing that this isn't necessary. Opera Mobile was different in this respect as it allowed you to cache certain images so that they were displayed even if images are switched off.
I would recommend getting on over to mini.opera.com and trying it out for yourself