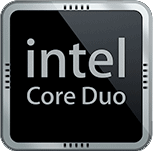 I stayed up late last night watching the keynote to find out all of the juicy details about Apple's latest announcements:
I like the idea of the new FM radio remote for the 5th Generation iPod and iPod Nanos. I'm guessing that this was something where the functionality was built in from day one, but Apple held back so they could release this add-on at a later date. It's probably about time I bought an iPod as I've never owned one as yet!
The software within iLife '06 that relies on .mac I can't get too enthusiastic about, though I can see that these tools make life a lot easier for your average Joe. I'll be interested to see some examples of the code that iWeb outputs to find out whether the sites that it publishes are well put together.
The new Macbook Pro and the new iMac are packing a punch thanks to the move to Intel processors and Steve jobs mentioned that the iMacs are 2X faster and the MacBook Pro is 4X faster than their predecessors. I was fairly surprised to see that they look almost identical to their PowerPC counterparts but in a lot of ways this makes sense if the new Intel macs were physically very different from the previous versions this could have done more to upset anyone who purchased or received a mac for Christmas.
The big question for me is will these machines run Windows XP or will we have to wait until Windows Vista comes out before we see dual-boot Windows and OSX machines. The uncertainty comes from the fact that the new MacIntel machines use EFI instead of traditional BIOS. Apparently Windows XP doesn't support this but Vista will. Until this issue is cleared up I will be holding off ordering one as the real attraction for me is not only the extra power but the ability to install Windows and Linux and to make the MacBook Pro the only machine I need. (Note to self: start saving for one now!).
Update: There's a nice article over on engadget with more info on the issue of running windows on the new Intel Macs.
Update 2: If you were wondering about the ouput of iWeb like I was here's your answer; iWeb's HTML markup. Not so good.