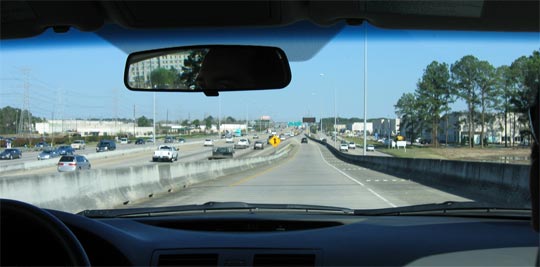 SXSWi is the geek excursion of the year for me. It's a chance to catch up with old friends meet new people and to generally geek-out in one of the coolest cities I've ever been to, Austin Texas.
This year to do something slightly unusual Cyril, Tristan and myself had decided to head to Houston, hire a car then drive to Austin at some point after seeing a bit more of Texas. After a 10 hour flight we got the car and headed out onto the highway towards San Antonio where we had planned to meet up with Opera's Chris Mills and the internet's Carl Camera and his family.
The drive was eye-opening in several ways. Having never seen any part of the US other than Austin for the last 2 years running I was looking forward to our little road-trip. What was surprising though was how long the bill-boards and hoardings were with us between Houston and San Antonio. If I recall correctly it seemed as if they only stopped for about 30 minutes of the 3 and a half hour drive; where at which point they were replaced with longhorn cattle and ranches and then as we drew closer to San Antonio the billboards and advertising started up again and it made me realise how much people are bombarded with ads just by going about their daily business. Perhaps though if this is something that you're used to you mentally block them out find them far less intrusive?
Remember the Alamo
I'd taken over driven after a quick pit-stop and was beginning to feel like I couldn't wait to arrive. Fortunately the lights of San Antonio were twinkling in the distance and it wasn't long before we were finding our way to the Hampon Inn. When we arrived we realised how dead tired we all were, so there was only one thing to do; check-in then hit the town and get our drink on!

Just across the road from hotel was the River Walk, a man-made river with a walk-way down each side. We found ourselves a mexican bar and tested out a jug of margarita before heading to an Irish pub for a few shots of tequila. After adjusting our body clocks with the night out we head back to the hampton for some kip.

The next morning we took full advantage of the Hampton's breakfast bar before heading out to meet Chris and Carl and his family. We met up and went to have a look around the Alamo where we found a couple of people talking through the equipment of the period, including Bowie knives, Brown bess muskets and various other paraphenalia including bullet making equipment, tobacco and rations.
Esther's Follies
After the Alamo we went to get some tex-mex before heading off to Austin to check in and get sorted out before heading to Esther's Follies a comedy show held on 6th Street. I didn't know what to expect but it was an awesome show, and despite there being a lot of stuff based on topical US politics I really enjoyed it. For me the Magician made it as his act was hilarious and the tricks were top notch too. It also has to be seen to be believed how they use the window behind the stage as part of the show. I wouldn't hesitate to recommend visiting Esther's follies to anyone next time you're in Austin.
The Rodeo
On the Friday afternoon a bunch of us headed out to the Rodeo and Carnival. The carnical featured a BBQ cook off where all of the food was free aside from the expectation of donations towards some childrens charities - great for meat eaters less so for vegetarians though there was so I'm told some fried cheese somewhere. The Rodeo was strange. After the announcer thanked George Bush and a prayer was said for the riders. We witnessed Bucking Broncos, Bull riding the whole works. There was even a special kids event with sheep riding, and there was me thinking that sort of thing only happened in Wales.
SXSW interactive panels
This year I found on the whole that I didn't see any panels that were absolutely incredible or that stood out. I'm thinking though with all of the choices it certainly is possible to be unlucky and I felt this was how it played out for me this year but I'll be back next year without a doubt.

Of the panels I did see I most enjoyed the "Scaling boot camp panel" for it's inisght into problems faced with scaling of real sites including Twitter, and the "Design Hurts" Panel with John Gruber and Michael Lopp. I particularly liked John Gruber's explanation of the apple logo which went something along the lines of:
If you take away the bite it's just an apple. The bite represents original Sin. When you think about it this makes sense as Apple stands for temptation.
One thing noticeable in all of the panels that I went to there's a distinct lack of anything remotely technical. I would really like to see more practical presentations next year if possible as otherwise there's a tendency for panels to get to conceptual, theory based and wishy washy. Cool thing with SXSW is that if you're not enjoying the particular panel you've chosen you can kick back and hack away on something or head out for coffee to geek out with friends old and new.
The Social
It was great to hang out with friends in Austin, the parties were good but sometimes the queues meant foosball in Buffalo Billiards was a better option. The FireEagle bash was great and in particular this year the closing party was awesome, great venue, good tunes, drinks on tap. What more could you ask for except for a trip to the Ihop to round it all of. Cheers Dustin.

I enjoyed meeting lot's of new faces whilst out and about. I also found that I most enjoy hearing people's passion for what they do on the web, afterall that's a big reason why we all head out to Austin year after year and for me that's reason enough to keep SXSWi on the calendar for next year too.