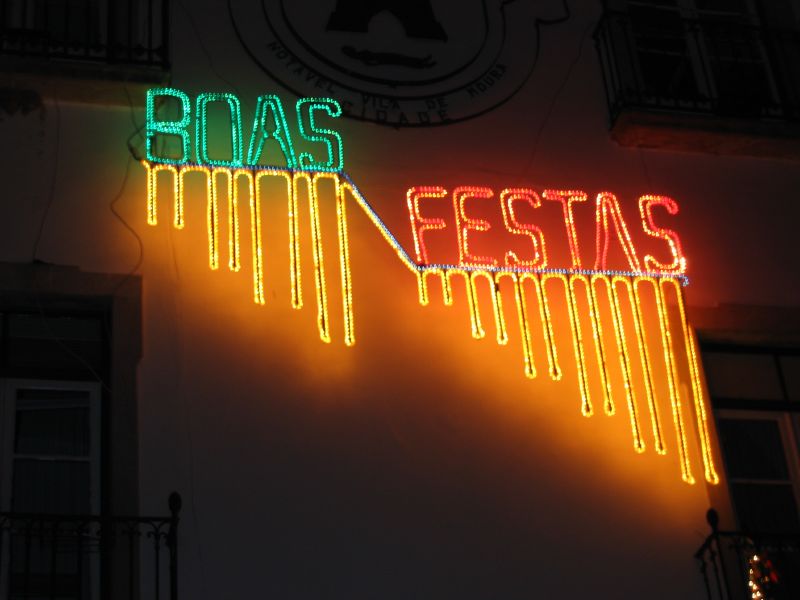 We returned from Portugal on Boxing day after a pretty mad 10 days seeing Sandra's parents and family in Moura, Baixo Alentejo. The flight was about 3 hours long and we landed in Faro at 10 o'clock. The journey overall was pretty exhausting as it was the first time that we had gone by bus to Moura. The previous times we had hired a car at the airport but this time as we were going to see family we had decided to forego the car and just take the bus.
The bus ride was about 5 hours and we got to Moura just before 6. Sandra's parents were pleased to see us and we It was nice to finally be there but we were very worn out after the travelling and so we turned in fairly early on.
While we were there we spent quite a bit of time walking around the town and Emma loved spending time in the Jardim Dr Santiago. I'd never been to Portugal in December before but the usually arid Alentejo was much greener and prettier to look at thanks to the recent rain.
One morning we went down to the fish market and bought some chocos (squid), tuna steaks and sardines. Fish is very popular in Portugal and nothing beats fish cooked on the charcoal grill. I began to eat fish a few years ago after being vegetarian for 10 years and this comes in handy in Portugal because if you don't eat fish there isn't a lot else for a vegetarian to eat. Having said that we did spy some veggie sausages and burgers for the first time ever and they weren't bad.
Sandra's sister Ines and her husband Sofiane arrived later in the week and had no idea that we were already there. It was great to see their faces when we surprised them at the guest house where they were staying. They were pleased that they would be able to spend Christmas with us and Emma afterall. Ines had cried when Sandra had said goodbye under the pretence of going to Devon.
One day Sofiane and I took a walk out into the Olive groves and Sofiane told me about olives harvesting techniques as he had worked on an olive farm in Italy a few years back. He explained that in harvesting the olives some of the branches of the tree are knocked off which 'loosens' the olivesv and also has the effect of pruning the tree so that the yield can be increased next year round. This is important as one tree only yields about 2-3 litres of oil.
Christmas came up pretty fast and we celebrated Christmas on Christmas Eve which is the tradition in Sandra's family. We had a meal together at Sandra's Aunty's house followed by cake and presents back at Sandra's parent's house. On Christmas day we got up and Emma opened her presents. We had brought just a couple of Emma's presents with us, a Heffalump and a Piglet (Winnie the Pooh soft toys) and a winnie the pooh book. We spent the rest of the day with Sandra's parents and family as we packed our stuff in preparation for the journey home the next day.
On the way back we were pretty lucky as Sandra's cousin Tiago was able to drive us down to Faro Airport. It was a bit of a white knuckle ride and there was one near miss on the way. Fortunately we got there in one piece and it seemed as if we walked in the airport, checked in, and were straight on the plane; it couldn't have been easier.
Once back home we went over to my parents for Emma to open all of her other presents that we could take with us to Portugal. It was nice to spend the day with my family and I opened the rest of my presents too. Sandra had bought me a Nintendo DS which was a nice surprise and should come in handy on the flight to Texas for SXSW next year!
Pictures on Flickr.com
Happy new year
Thanks to everyone who's supported me over the last year and to all of my friends, family and readers here's wishing you a happy new year and all the very best for 2006.