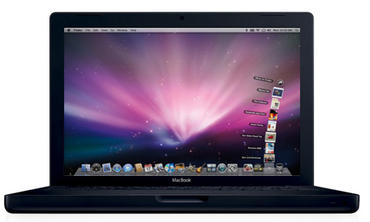 So the new MacBook Pro is out and it looks very good. The core spec is not that far off the MacBook Pro but is available at a much lower pricepoint. The main difference is that with the MacBook you only get an intel GMA950 card with shared memory rather than the ATi options supplied with the MacBook Pro. The only other items you miss out on are the light-up keyboard and the express card.
The MacBook costs significantly less than the MacBook Pro and the addition of a black version does give you the possibility of a departure from the previous white models. The only catch with the black model is that it's a whole £128 more expensive and yet the only difference appears to be 20GB increase in hard drive capacity.
So which would you go for. The sexy MacBook Pro with it's higher price tag but better graphics or the budget but better value MacBook? If you're ready to lay some cash down for the MacBook which would it be, black or white?