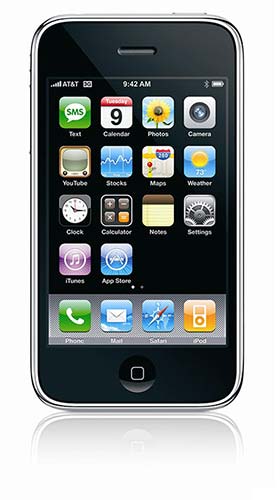 You're probably sick to the back teeth by now of all the coverage of the new iPhone but there's no wonder there's such a buzz around this device. It's a geek's dream with it's combo of useful features in one small package.
Looking at the info at http://www.apple.com/iphone/ it's clear to see the that the interface interaction is a thing of beauty. The animations as you change from one app to another certainly eye-catching and sure to illicit the "Ooohhhhhs" in the same way as every-time someone uses the transitions in Keynote for the first time. Whether these would become distracting over time is another thing.
The touch-screen makes it possible to navigate easily around the interface and the addition of Cover Flow to the ipod part of the iPhone looks amazing. As the iPhone has built-in sensors it will automatically switch to widescreen mode as you put it on it's side. Something Apple has always done well is making interfaces 'just work' so that they appear seamless and intuitive.
Roger Johansson has noted the lack of real keys but I think that it will be something that you would get used to over time. I would suspect that the iPhone would have something like the click feedback on the ipod clickwheel to provide some audio feedback to touchscreen "key" presses.
The fact that the iPhone is running what I assume to be a cut-down embedded version of OSX means that there's no real limit to what the iPhone can do in the future. One would also hope that the way the wi-fi works will be every bit as easy to use as the airport cards in the full version of OSX. At this point the geek in me hopes that somehow locked away in there is a terminal and it will be possible possibile to run remote sessions from the iPhone. Now wouldn't that be cool?
The next question is; when will these little beauties be available in the UK?